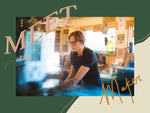 Meet the Maker: Hannah Hazel Glass
I've always been drawn to stained glass; the magic of light being transformed as it dances through the glass just takes my breath away. Shadows of light sparkling across a well worn floor, absolute magic. For the last three years I've been on the hunt for the perfect stained glass line to feature in the shop and I'm thrilled to share that we've found it! Hannah Hazel is a phenomenal artist based in Boulder, Colorado and her creations are absolutely stunning.
Photo credit: Hannah Hazel
What drew you to stained glass as a medium?
"I spontaneously took a stained glass workshop at a local craft store and fell in love with the process. It's like breaking down and building up a puzzle all at once. I'm constantly in awe of how light plays with the many kinds of glass I work with."
Photo credit: Hannah Hazel 
What's your favorite part of the creation process?
"My favorite part is the moment when the piece is finally complete. It's satisfying to see a rough sketch in my sketchbook transform to something large and lit. The glass is always more vibrant and lively than the ink was ever able to portray in my sketchbook."
What brings you joy outside of your artwork?
"Outside of the studio, I enjoy spending time with my partner Jesse. We love playing cribbage, riding bikes, and rolling around in the yard with our dog Pepper. Another one of my greatest joys is a plate full of Indian food."
Photo credit: Hannah Hazel 
If you could travel to any place in the world (post COVID) where would that be and why?
"I would go to Japan to visit as many hot springs, or "onsen," and national parks as I could."
Photo credit: Hannah Hazel 
Now I know why I'm so drawn to Hannah's work; as a cribbage playing, dog loving, Indian food addict, we have quite a bit in common ;) You can stop by the shop to see Hannah's gorgeous creations in person or you can shop the collection here. 
Header photo credit to Ali Vagnini