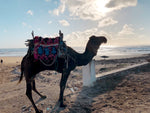 We were blessed to get to travel back to Morocco just a few weeks ago and I was struck by what a different perspective you have when you return to another country. Our first trip last summer I was nervous of the unknown, our bags had been lost and I wasn't sure what to expect. This time around we didn't have any of those nerves and we were able to roll up to Marrakech with nothing but excitement and gratitude. 
Camel on the beach in Sidi Kaouki with Boucherouite accessories
I'm continually struck by how seamlessly the chaos flows in Morocco; things that wouldn't jive in the U.S. absolutely do there. Traffic intermixes with donkeys and carts, which intermix with families aboard a single scooter and the lines on the road are at most, a suggestion. In the U.S. this would make for a disaster but there it flows beautifully, day in and day out. This time I was able to have a better understanding of why this phenomenon exists, and I've come to the understanding that it's because Moroccans are empathic as a society. Each move they make is made with others in mind.
One evening it had been pouring rain and the narrow, cobblestone streets of the medina were filled with puddles. We watched as teenage boys ripped through the streets on their scooters until they passed an elderly woman, they then let off the throttle and gently coasted through the puddles, so as to not splash the woman. In another instance we were walking through the medina behind a man pulling a very heavy hand cart. As he approached an upcoming hill, two men beside us ran up to help push the cart up the rise. Now these men weren't traveling with the other. They just noticed someone in need and quickly rose to the occasion. That is the nature of Moroccans; they are quick to lend a hand, a kind word or a smile. As a highly sensitive empath I feel an overwhelming sense of love each time we're there. 
Looking over the rooftops of the medina in Marrakech while listening to the call to prayer
Speaking of love, the call to prayer is one of the most hauntingly beautiful sounds I've ever had the joy of hearing. We sit on the rooftop of the riad with tears in our eyes and just listen to thousands of voices calling out in unison. I don't speak much Arabic, but I feel what is being said and to me, it sounds like pure love and gratitude. Which was confirmed one afternoon during tea with one of my rug vendors. We had been working for hours, going through stacks and stacks of vintage rugs and the call to prayer rang out through the medina. He politely excused himself and went off to pray. Upon returning we sat with one another over a steaming cup of mint tea while he explained his relationship to Islam. It touched my heart to hear him describe his love for Allah and his gratitude for everything in his life. His wife is pregnant with their third child and he expressed that they secretly were wishing for a little girl but that ultimately the decision was out of their hands and they would be thrilled with a healthy baby of either gender. His warm eyes sparkled with happiness and love as he shared his viewpoint. It was a touching experience that I will never forget. 
Sharing a traditional tagine amongst friends
Drinking tea with friends while finding treasures for your homes 
My hope for everyone is that they have an opportunity to travel outside of their comfort zone. After all, isn't that where growth happens? It is for me and I find myself counting the days until I can return. Until now I'll just have to stare at our gorgeous rugs and sip mint tea 🖤
Striking sunset from Sidi Kaouki looking out over the Atlantic