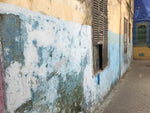 From Chefchaouen we headed north to Tangier after a short stay is Ceuta, a Spanish province on the northern African Mediterranean coast. We were really looking forward to a weekend in Spain but I have to say we were both ready to get back to Morocco pretty much as soon as we entered Ceuta. The border crossing was sketchy to say the least, after weeks of eating street food we both got food poisoning from a ridiculously expensive restaurant and the rest of the weekend was spent bowed over in the hotel.
Carved Door in Tangier
Tangier on the other hand was gorgeous. The cool sea air was a lovely reprieve after a couple of weeks in the heat. We stayed at a gorgeous Riad in the medina, just a few short blocks from the Kasbah. We were thrilled when the first evening there was a full bar presented as the sun was setting on the rooftop deck. To this point we had pretty much had a "dry" trip as it was Ramadan. I think the rules are a little more lax in Tangier and we were overjoyed to sip mojitos as we watched the sunset over the city.
Swoon worthy color palette in the streets of Tangier
My rooftop mojito haven
The most striking part of Tangier for me was the history. I'm a literature nerd and it was exhilarating to walk the streets that Bowles and Burroughs had frequented, to see the bookstore where they both routinely read new works and to sit in the birthplace of the beatnik movement. One evening we stumbled across a seemingly unimpressive restaurant only to enter another world filled with stunning decor, phenomenal food and the coolest bar I've ever been to. You head down a set of stairs in the back to a moody basement bar that seems fresh out of a David Lynch film. Red velvet couches permeated with the smell of cigars long since past, photos of famous musicians and celebrities lining the walls. It was incredible. We obviously went back each night we were in Tangier. 
I mean, seriously?! Sunset over Tangier.
From Tangier we oscillated on where to head next. We had planned on skipping Fez and heading back on the Marrakech Express but ultimately decided that Fez was something we couldn't miss. We took the train and immediately encountered the scam we were warned of. A man came and sat with us in the cabin of the train. He was extremely chatty and told us he was an architect from Fez who was returning home from a work trip. He talked about his work and his family for hours; showing us photos of both. After a bit he offered to set us up with his friend who was a guide, touting that if we didn't take his friendly offer we were sure to be scammed by someone upon entering Fez. Something about his story felt extremely off to me but it wasn't until my mothering knowledge kicked in that I knew we were being played. He kept going on about his teenage daughter and how she just loved helping his wife in the house with chores and cooking and how she was just an angel of a girl that did just what her father said. Haha, I have a teenage daughter and I knew better ;) He stepped out for a few minutes at one point and I quickly whispered to Chris that he was playing us and not to engage any further. When he returned to our cabin we thanked him for his lovely offer but told him we weren't interested in a guide and then kept to ourselves for the rest of the ride. When it became apparent to him that we weren't biting he made up a story of needing to check on his family farm and got off the train well before we had reached Fez. As we were departing the train another man whispered to Chris to avoid the man we had been speaking to and that he was a very bad man. Yet another reason to trust those gut instincts. 
Fez was another world, even compared to the other cities we had been immersed in for weeks. The city just feels ancient, seeped in history and culture. The Medina is notoriously winding and easy to lose your way. It was the first city on our travels that we actually got lost in. Our solution to this encounter is just to head towards the nearest mosque and reevaluate the cobblestone streets until we found our way.
Evening in Fez
From what I had heard from others prior to arriving in Fez, it has a tendency to be a bit of an aggressive city comparatively and we did experience that. To this point traveling during Ramadan hadn't been too much of an issue but when we reached Fez the temperatures soared to 115° and tempers went up right along with them. Can you imagine working in stifling heat with no food and water all day? I would have been snappy too. Most everyone was lovely but we definitely encountered some angry shop owners who absolutely did not want to take no as an answer. Our last evening in the city we were sworn at by a shop keep only to be sworn at by a group of small boys playing in the streets moments later. Needless to say, we were really grateful to jump back on the train and head to Marrakech. 
There's a jovialness in Marrakech unlike any other city I've ever been to. The bartering, the panhandlers, all feel lighthearted in nature. To me it just feels like home. The dusty rose colored city winding to unveil treasure after treasure. We had one final day wandering through the souks we knew like the back of our hands, buying just a few more rugs, (much to the chagrin of my husband) and one final dinner overlooking the city at night.
Just one more rug ;)
There were so many places I wanted to visit that we just couldn't fit in our packed itinerary so a second trip is a must for us this year. My main goals being to wander along the central and southern coastline and take an obligatory camel trek into the Sahara desert. After all, what is life for but to explore? Here's hoping this year brings adventures to you and yours as well. 
xo,
Erin