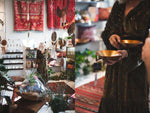 Root Adorned Grand Opening!
You know that nervous feeling in the bottom of your tummy when you throw a party? The little voice that whispers, "Is anyone going to show up?!" Yeah, that one. I had that feeling in spades the past few weeks and then something magical happened, they came!
What an incredible evening of celebration with our friends, new and old. If you weren't able to make it, how about a virtual tour thanks to my phenomenally talented girlfriend/photographer extraordinaire Heaven McArthur. However, you did miss out on delectable bites from our neighbors and dear friends Sunny Yoga Kitchen as well as drinks from my longtime friends at Spork. Oh well, next time we throw a party; show up! ;) 
Perhaps the MOST awkward person to photograph, thanks Heaven for helping me be just a little less. Oh, and my dress came from the most incredible shop in Tangier, Las Chicas. Seriously, if you find yourself there, go. You won't regret it. 
These stunning pieces are crafted by hand in Argentina and an absolute favorite of mine. 
Did you know that we carry cards? Well, we do ;) All of our cards are handmade in the US.
Best neighbors EVER <3
Shop our collection of vintage Moroccan Wedding Blankets.
We sold out of these phenomenal bromeliads in a hot second but don't worry, we have more on the way. Keep an eye on our Instagram for their arrival. 
Learn more about this stunning Boujad.
Love these books! Recipes, stories and photos from the artist's families, (we also have Jackson Pollock).
Thank you from the bottom of my heart to everyone who came out to celebrate with us. I can't express enough how much your support means to my family and I, truly,
Erin